Our Team
Friendly. Knowledgeable. Efficient. These words describe our Rossville Family Dentistry team. Our team is professionally trained and licensed with many hours completed each year dedicated to expanding knowledge and honing skills. Each department works together as a team to ensure your comfort on every level. Come meet our team and you will see what makes them so special.
follow us on facebook and twitter

Rossville Family Dentistry is now on facebook and twitter. We will use these two tools to share ideas, contests, office updates and events. be sure to LIKE US on facebook at
www.facebook.com/flossville
and follow us at
twitter.com/flossville
Shining Star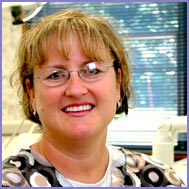 Kelly H
Dental Assisting Coordinator

An energetic and enthusiastic team member, Kelly has served the patients of Rossville Family Dentistry for over 19 years! She is the Indiana Oral Cancer Awareness Walk coordinator, raising money and awareness for the Oral Cancer Foundation. Her generous holiday spirit lasts all year long- you will frequently hear her humming Christmas carols in July! She is a shining star!